Land Subsidence & Earth Fissures Field Trip
Wednesday November 6, 2019
8:00 AM
This field trip is a great opportunity for those seeking to observe three local areas of interest, with demonstrations on how earth fissures affect structures, and methods to detect fissures. For a listing of field trip activities, in addition to parking and other details, CLICK HERE.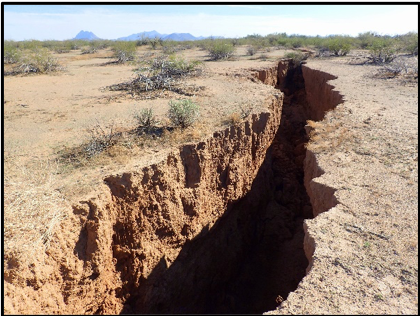 The field trip will run from 8:00am to around 3pm on November 6th, 2019. We will meet at the Gammage Theater parking lot near the Memorial Union on Tempe campus at 8:00am to get on a charter bus to visit 3 areas of interest. These areas are within the Phoenix metropolitan area, so long bus rides are not expected. Please remember to wear appropriate footwear and clothing. We will not be doing anything strenuous, but will be walking on dirt roads for short periods of time under the sun. There will be water and snacks available, but please bring anything else you require to make this trip comfortable and enjoyable. Lunch will be provided and will eat in the field during our field trip. Vegan and Vegetarian options will be available. Once we get closer to the time, we will reach out for lunch orders. 
To conclude the day and the final meeting of the UNESCO-IGCP641 project, we will be holding a social event after the field trip on November 6th from 7pm to 10pm at Fate Brewing Company, Scottsdale: 1312 N Scottsdale Rd, Scottsdale, AZ 85257. Dinner and drinks will be provided, with additional drinks and items available for purchase from the bar menu. We will have some brief closing statements and plan to spend the evening celebrating and socializing together. It should be a blast, and we look forward to seeing you! RSVP for the November 6th social event HERE. Cash or credit payment will also be accepted at the door.
If you have any questions, please reach out to Danielle Smilovsky (AEG contact): dsmilovs@asu.edu or Brian Conway (IGCP641 contact): bdconway@azwater.gov
This event will be limited to 65 participants. Registration and payment through PayPal is required prior to the event, cash or credit will not be accepted onsite.
RSVP deadline is past